Log in to get emails when Alexandra Ketchum has something new.
Dr. Alex Ketchum is the Faculty Lecturer at the Institute for Gender, Sexuality and Feminist Studies at McGill University. She received her doctorate from the Department of History at McGill University while focusing on feminist restaurants, cafés, and coffeehouses in the United States and Canada from the 1972-1989. Her work integrates food, environmental, and gender history. She has a MA in History with the Option in Women and Gender Studies also from McGill University and a Honors BA in Feminist, Gender, and Sexuality Studies from Wesleyan University. Ketchum is committed to accessible publishing practices. She is the founder of The Feminist Restaurant Project (
thefeministrestaurantproject.com
); the co-founder and editor of The Historical Cooking Project (
historicalcookingproject.com
)
, a website dedicated to food studies scholarship; the co-founder of Food, Feminism, and Fermentation (foodfeminismfermentation.com); and the author of How to DIY A Feminist Restaurant (Portland: Microcosm, 2018). She is currently working on a book about American feminist restaurant and literary culture in the 20th and 21st centuries. She was co-manager of an organic farm from 2008-2012 and has worked on organic farms in Ireland and France. In 2009, she founded Farm House in Middletown, Connecticut, a living community dedicated to food politics work that continues today. For a full list of her publications and projects, please visit alexketchum.ca.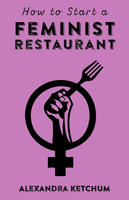 During a time when much attention has been given to sexual harassment and labor issues in the restaurant industry, …
$4.95 2 comments
Add to Cart