Log in to get emails when Liza Burkin has something new.
A gorgeous zine of poetry and art, inspired by a bicycle tour of the Baja Divide in Mexico. The poems are in English …
$12.00
Add to Cart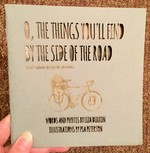 A gorgeous hand-cut and illustrated zine of poems inspired by rad women bicycle touring all over the world.
$12.00
Add to Cart