Log in to get emails when Markell West has something new.
XD is "a zine-review zine with perzine tendencies"—inside you'll find dozens of reviews …
$4.95
Add to Cart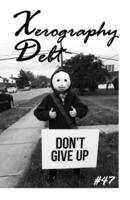 This issue of long-running zine review zine XD has an unofficial theme of "why do we keep making zines," …
$4.95
Add to Cart

To nap is human. State your allegiance to the art of napping with this lovely sticker!
$1.50
View Details
Quick Shop