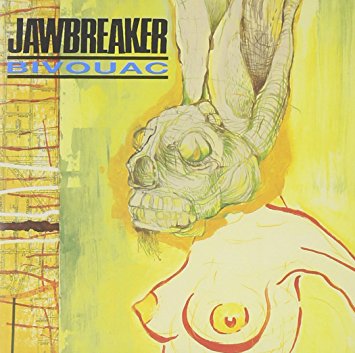 Jawbreaker: Bivouac
For fans of the emo and pop punk genres, Jawbreaker is one of the most influential and beloved acts out there--certainly one worth listening to if you're a fan of later pop-punkers like Blink-182, My Chemical Romance, or Fall Out Boy. Their sophomore album Bivouac opens with the song "Shield Your Eyes," a tune that "kind of defined where we would go as a band" according to Blake Schwarzenbach, whose spot as the band's leading man was solidified by his writing and recording of said track. Bivouac took much more time, effort, and energy to create than their debut Unfun, which is apparent in the tighter playing and increasingly smarter, complex songs. It was completed after a short breakup and relocation to San Fransisco, originally released by the Tupelo Recording Company and the Communion Label. This remastered version was reissued by Blackball Records in 2012.
Tracklist:
Shield Your Eyes
Big
Sleep
Donatello
P.S. New York Is Burning
Like a Secret
Chesterfield King
Parabola
Bivouac
You must log in to comment.