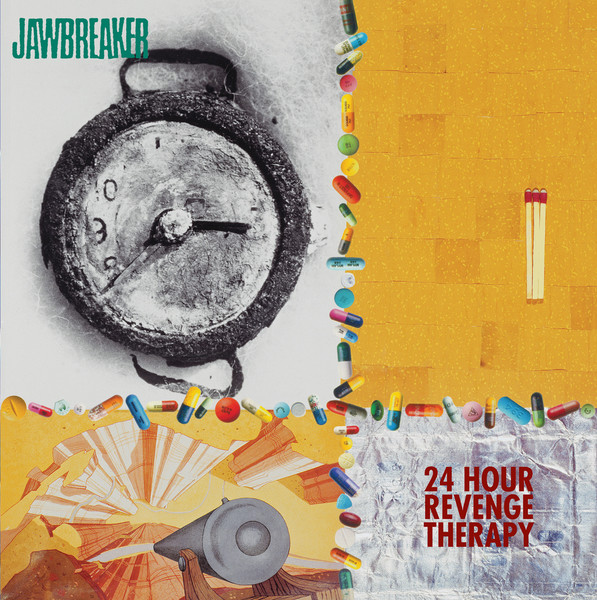 Jawbreaker: 24-Hour Revenge Therapy LP
For fans of the emo and pop punk genres, Jawbreaker is one of the most influential and beloved acts out there--certainly one worth listening to if you're a fan of later pop-punkers like Blink-182, My Chemical Romance, or Fall Out Boy. 24-Hour Revenge Therapy is the band's third and often most highly-acclaimed album, often the favorite of fans and critics alike. The first track "The Boat Dreams from the Hill" (besides immediately reminding me of Green Day) had me involuntarily tapping my foot along to the drums. The high-energy vibe sustains until the intro of "Out Patient" (which, don't worry, eventually picks up a bit). But 24-Hour is unlike the first 2 albums in that it doesn't seem to want to chug along as fast and as hard as it possibly can. Don't get me wrong--it's still intense--but it takes its time building and relieving tension and alternating between softer moments and surges of power. On top of that, Schwarzenbach's lyrics tread on more sensitive territory than ever despite their rough, punk-y delivery. It was recorded in Chicago with engineer Steve Albini (who's worked on albums by Nirvana, Pixies, The Stooges, Robert Plant and Jimmy Page, and more) and the digital download included has 6 bonus tracks also recorded by Steve. It was originally released by the Tupelo Recording Company and Communion Records in 1994, but this remastered version was reissued by Blackball Records a decade later.
Tracklist:
The Boat Dreams from the Hill
Indictment
Boxcar
Outpatient
Ashtray Monument
Condition Oakland
Ache
Do You Still Hate Me?
West Bay Invitational
Jinx Removing
In Sadding Around
Bonus Digital Tracks:
The Boat Dreams from the Hill
Boxcar (alternate take)
Do You Still Hate Me (alternate take)
Jinx Removing (alternate take)
First Step (outtake)
Friends Back East (outtake)
You must log in to comment.