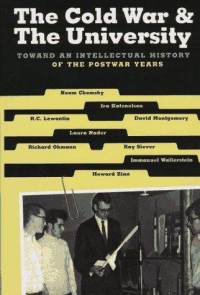 The Cold War & The University: Towards An Intellectual History
Less Than Half Price! Do you regard the government as deceitful, oppressive and imperialist? This book assembles writings by American scholars on how the Cold War affected the academy. Montgomery begins the book talking about censorship of broadcasts by Los Alamos scientists being censored in May 1946, followed by corporate power versus the UAW and CIO, racial violence in the military and genocide against the Indians-"the original sin of American culture," says Noam Chomsky. R.C. Lewontin describes how research agendas of universities were shaped by communist witch hunts while Richard Ohmann writes of secret inducements in English departments to follow a Cold War blueprint.
You must log in to comment.