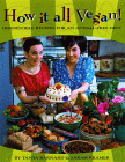 How It All Vegan
Vegan recipes for such delights as bee pollen blue banana muffins, tofu jerky, vegan ice cream, chocolate cheese-free cake, and cosmetics, pet treats, even household cleaners. Pop culture friendly!
"Written with sass, style, and a sense of humor. More than just a cookbook. . . ."—BUST
You must log in to comment.