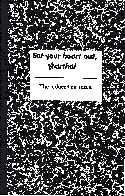 Eat Your Heart Out Martha: The Education Issues
You may already know Candyce from her column in Slug and lettuce, as her writing is always interesting and thought provoking. This zine is a compilation of her writings about education. Candyce homeschoools her 10 year old son and through this zine you learn and progress with her from her son's departure of public schools through the transition into home school as she shares her experiences and overcoming self doubt. Candyce covers issues like: concerns of socialization, unschooling, problems with public education, and state testing. She also includes recomended reading and a tribute to Mr. Rodgers. Recomended for anyone who has considered homeschooling or even unschoooling themself.
You must log in to comment.