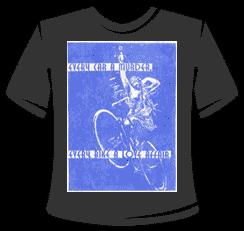 Every Car a Murder, Every Bike a Love Affair T-Shirt
These shirts are printed on reused t-shirts (i.e. not new; worn by someone else before you). This is a way to use ethical t-shirts and still keep them affordable. Keep this in mind when ordering. Colors vary on all reused t-shirts. If you want a specific color of a new shirt other than the one shown let us know and we might be able to help you out.
You must log in to comment.