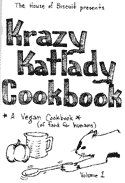 Krazy Katlady Cookbook #1: A Vegan Cookbook (of food for humans) Volume 1
Heather and Tiffany created this cookbook as a benefit for local no-kill animal shelters in Portland, OR. 100% of their profits for this zine are donated, and since as of right now they've got an amazingly good (free) copy hook-up, the cats and dogs of this town are breathing a little easier. It's food for humans, not cats though. When they lived together and you visited their house you'd be greeted by top notch biscuits among other delicacies. This cookbook also includes yummy pancakes, cheese sauce, jambalaya, lasagna, broccoli and rice casserole, macaroni salad, hush puppies, gumbo, stuffed peppers, and lots more delicious goodies. Top notch "comfort food" that they prepare constantly.
You must log in to comment.