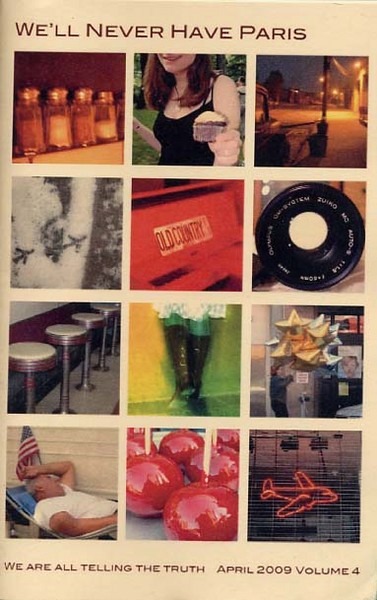 We'll Never Have Paris #4
We'll Never Have Paris is a zine of narrative non-fiction, written by a variety of contributors and edited together by Andria. Issue #4 includes:
Living Under Water-a set of remembrances by Jaime Borschuk about a teenage trip to Cancun with her mother
An Interview w/Jeff Stark-Creator of the New York City Nonsense List
Accidental Evenings-Karen Lillis writes about being jilted for the Homecoming dance
Bricks Are Just Bricks-Tamara Lazaroff's tale of her friend Claire and their Michael Jackson couch
Facebook Status Messages-are just what they sound like. A compiled list of status messages that make a kind of poem.
Folds-Matthew Mendez contemplates working out and getting into shape.
Extreme Close-Up-Cassie works in a record store and is an incognito metalhead.
You must log in to comment.