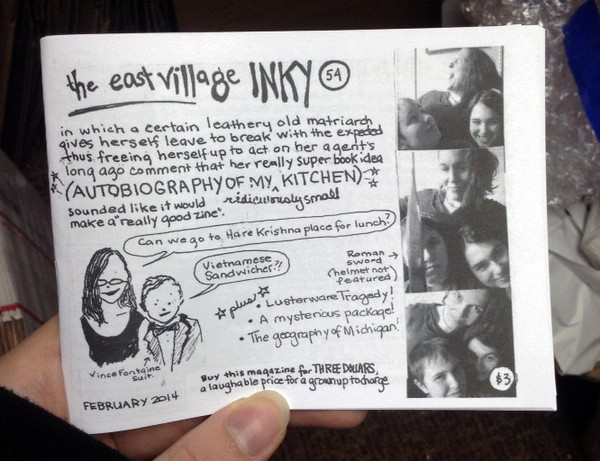 The East Village Inky #54: The Autobiography of My Kitchen
The fabulous East Village Inky is Ayun Halliday's mega-awesome per-zine about living life in New York City and navigating the wild and complex (and totally insane) fantasy-beast that is her immediate vicinity (and if you don't think a vicinity can be a beast, you haven't read this zine; we're talkin' pegacorn crossed with a Care Bear crossed with Max Headroom). Now on its 54th issue, Ayun's zine just keeps getting better, and those of us who've been following along since the early days will always feel like some kind of fringe-branch cousin to her lovable, chaotic, always-in-motion family (for newbies, the zine gets its name from Ayun's daughter, India. India, as in ink.) Ayun is moving on to home school her other child, Milo, on the various histories of the world as well as telling the Autiobiography of her Kitchen. 40 jam-packed, fun-filled, handwritten and illustrated pages in a handy pocket-sized format. Unparalleled reading for toilet, subway, nursing in public places, or the Chinatown Bus to your next zinefest." Much recommended! Hella fun! Woo!
You must log in to comment.