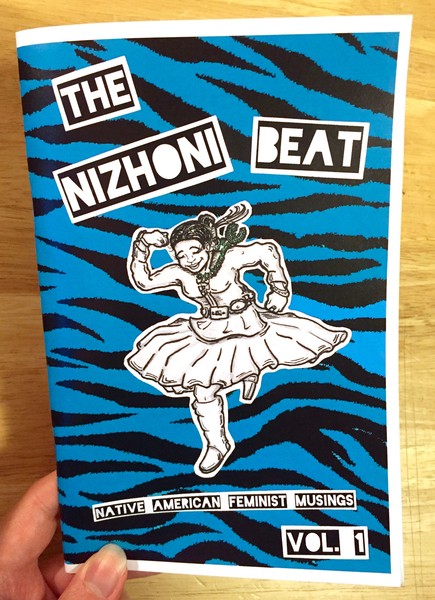 The Nizhoni Beat: Native American Feminist Musings VOL. 1
As the authors state eloquently in the introduction: "We're here to inspire Native women to make a space for themselves in their own culture and in counter-culture. We're here to stand in opposition to the media and its stereotyped portrayals of Native peoples. We're here to encourage Native women to explore their political identity and to meet and connect with other Indigenous peoples around the world. Politics and travel both require one to step outside of her comfort zone but we're here to say DO IT! for that is how one truly gets to know herself. In Diné bizaad, nizhóni means "beautiful". Like the woman on the cover, we're here to say that every Native woman is allowed to dance to her own beautiful beat and get down with her bad self!" The Nizhoni Beat is the latest issue/new name of Empower Yoself Before You Wreck Yoself but the authors report that they have already changed the name again. This issue is about travel, a Black Lives Matter protest, how to decolonize your life, and much more.
You must log in to comment.