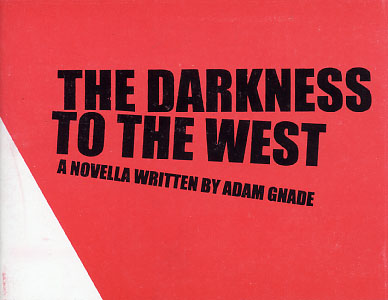 The Darkness to the West
From the author of the Powell's Books bestseller Hymn California, Adam Gnade's novella zine, The Darkness to the West, is about a world falling apart and the things we can do to hold it back together. Over the course of 42 pages, Gnade's characters break into nature preserves, try to use The Force, shoot beer cans off each others' heads William Tell-style, and threaten the neighbors with an official Indiana Jones movie prop bullwhip. It's a story about getting rowdy to ditch the bummer-times. Set mainly in the South, the book begins with its main character James on a self-imposed exile: "My work space was on the second story of the old colonial house I was crashing in, a great leaning wooden thing with balcony porches around the front and back. It sat surrounded by oak and magnolia trees which had long-dead vines wrapped around their trunks like snakes turned to stone. Birds lifted out of them in wild Amazonian flocks. Squirrels jumped from branch to branch. These were Southern trees, the kind that make you feel as if you are in the Congo or tropical jungleland in St Croix." From there it's a race away from social anxiety and into adventure. This is a celebratory jam in the face of blues and danger.
You must log in to comment.