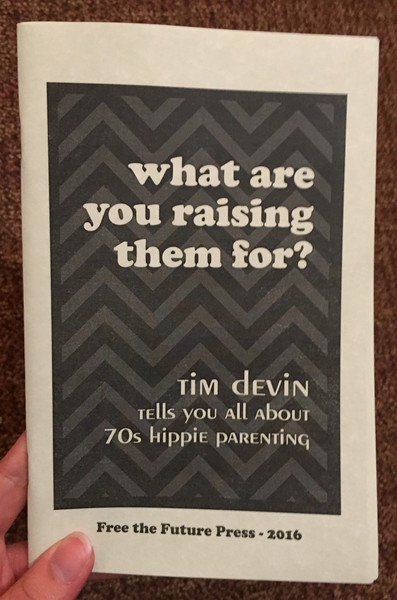 What are you raising them for?
(Taylor sez) Takes its title from a question hippie parents in the '70s often asked one another in regards to their kids. The zine is written around this premise, how to raise kids to be more empathetic, more aware, more green-friendly, how to prepare them to become full-fledged hippies themselves. I am not a parent, but I still see the value in publications like this. It encourages conversation and a rethinking of the way we do things today. I would recommend to all parents, prospective parents, or activists mapping out alternative lifestyles. (Joe sez) And most basic and amazing is the advice to form deep relationships with other adults to make both children and parents happier. I appreciate the analysis that the self-imposed poverty that our parents raise us in creates feelings of guilt when we elevate ourselves out of it. I tend to draw the opposite conclusion as the author in each case or perhaps I just relate too much with the "other adult" that parents lean on. Perhaps as a result, I found a lot of merit in this zine. Even when I didn't agree with the author, it gave me something nice to chew on. I appreciate that the author disses the hippies for perpetuating the mainstream view of gender roles in the '70s.
You must log in to comment.