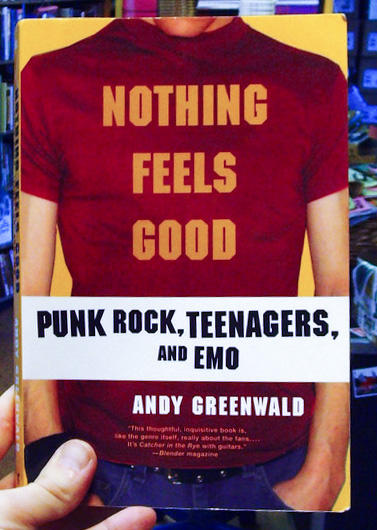 Nothing Feels Good: Punk Rock, Teenagers, and Emo
This isn't a book to read if you clung too dearly to emo around a decade ago, as Andy Greenwald can be occasionally scathing in his conversational critique. He defines emo as a reaction to macho and aggressive punk rock, which seems reasonable, but he strikes a chord in noticing that no emo musician or fan self-describes that way, as it's inherently limiting. So to be emo, you have to deny all associations with emo. Further, they envelope themselves in a community that rewards a stagnant immaturity. Andy spends many pages thereafter spending time with emo fans and hearing them endlessly relate with their icons. And after a few hundred pages you are left with this idea that twenty years of emo "culture" has come full circle to mimic the actions of Jefferson Airplane where giant stadiums and tour busses are surrounded by khaki and tank top clad fans clamoring to spend a minute with Chris Carraba to relate their break ups, hardships, and a perceived relationship. And by the end, it doesn't feel like the book was making fun of emo kids but rather creating a feeling of understanding—understanding how they get stuck between points of emotional development and decision making; understanding why they hurt so much and cherish their sensitivity to painful events in their lives; and most of all, understanding how it became a self-perpetuating culture that spread into millions of fans, despite remaining "underground."
You must log in to comment.