In the 1970s two amateur designers set out to change the world of furniture, creating their own designs from simple cardboard and PVC pipe, empowering the people to create their own inexpensive furnishings. All of their ...
150 pages, paperback, 8.5x11", used
$15.95 $8.00
Add to Cart
Out Now
"We don't just blindly provide 'good' reviews—we're here to support a community and foster its members. If your zine is reviewed,you earned that ink. Keep up the good work!" opens this issue of the review zine with perzine tendencies. Since 1999, Davida Gypsy Breier's H.P. history-preserving tar in Xerography Debt might be best summarized as an obsession for all involved, none of which are likely to be as wealthy as the preserved zine king depicted on the cover. Billy da Bling Bunny Roberts recently said "It's the glue that holds the zine community together." Maintaining three issues per year, the 37th issue of Xerography Debt is still the same ol' charming personality, allowing a hand-picked cast of contributors to wax philosophical about the zines they love, where those zines find them in their lives, the history of Irish zines, and incessantly complain about postage increases. The reviewers hand-select hundreds of zines to write about and the result is enthusiastic, satisfying, and under-saturated! In an age of blogs and tweets, Xerography Debt is a beautiful, earnest anachronism, a publication that seems to come from a different era, but is firmly entrenched in the now. And they want to review your zines in future issues: Davida Gypsy Breier / PO Box 11064 / Baltimore, MD 21212
Now on Kickstarter: Pedal Zombies!
In the not-so-distant future, when gasoline is no longer available, humans turn to two-wheeled vehicles to transport goods, seek glory, and defend their remaining communities. In another version of the future, those with the zombie virus are able to escape persecution and feel almost alive again on two wheels. In yet another scenario, bicycles themselves are reanimated and roam the earth. A talented array of writers bring their diverse visions to this volume: sometimes scary, sometimes spooky, sometimes hilarious, always on two wheels...
You've heard of mansplaining, but what about manstitutions? From manologues to manversations, mantrums to manger, the behavior of men is decoded at last for your enlightenment and entertainment. It's a new wave of feminism, and that wave requires a new language. Manspressions creates a common language for societal forces that hold everyone back, but that have been difficult to talk about until now—because we lacked the words.
creates a common language for societal forces that hold everyone back, but that have been difficult to talk about until now—because we lacked the words.
There are infinite possibilities in human relationships, but the fairytale ideal of companionship does not exist for most people. In Consensuality, Helen Wildfell and her co-adventurers detail the process for creating or finding a healthy, successful relationship as well as common pitfalls and how to avoid them, like gender identity, sexual boundaries, power struggles, and emotional dysfunction. Overcoming regret and resentment, the authors describe a journey towards a respectful social environment. Their experiences lead to lessons of self-empowerment and communication tips for building healthy partnerships. We recognize their preferences and boundaries. We discuss how those fit with our own preferences and boundaries. Filled with personal descriptions of the complex layers in human interaction, the book combines gender studies with memoir to truly make the personal political.
Filled with personal descriptions of the complex layers in human interaction, the book combines gender studies with memoir to truly make the personal political.
Teenage Rebels provides a glimpse into the laws, policies, and political struggles that have shaped the lives of American high school students over the last one hundred years. Through dozens of case studies, Dawson Barrett recounts the strikes, marches, and picket lines of teens all over the U.S. as they demand better textbooks, start recycling programs, and protest the censorship of student newspapers. With historically-influenced artwork and accessible writing, this book is for anyone who has ever challenged the rules and wished for a better world.
A thorough and classic examination on tried and true herbal treatments for common gynecological problems, as well as great basic sexual health info. It begins, "Patriarchy sucks. It's robbed us of our autonomy and much of our history. We believe it's integral for women to be aware an in control of our own bodies." Diagrams and herbal remedies teach you how to diagnose and heal many basic problems from bladder infections to inducing your period to ease cramps to even dealing with pregnancy. Learn herbal remedies to ease every stage of the menstrual cycle. There's references to further reading, descriptions of herbs, and even a section on aphrodisiacs. The sections include: Body Mapping (in brief), About Menstruation, Love in the Age of Aids, 35 years of fertility, STDs and Other Aliens, The Ovaries and the Uterus, Aphrodisiacs, How to Prepare and Use Herbs, Picking Your Own Herbs, Herbal Properties and Dosages, Interesting Reading, Useful Addresses. This book deserves to sit next to your copy of Our Bodies, Our Selves.
"For every successful local group that ever packed the Fillmore, Avalon, or Winterland Ballrooms, there were dozens of overlooked, and much better, groups that also hailed from the City by the Bay." Explore the primitive, rocking rhythm and blues of the fifties, the garage and psych of the sixties, and the seventies punk and new wave scenes. Spanning rock & roll's first three decades, these were the bands left out of the history books. It is not only essential reading for music history nuts and record collectors, it is also mandatory for all Bay Area devotees.
In this engaging memoir, a small town Florida teenager discovers punk rock through a loaned mix tape and punk music and culture slowly takes over all aspects of his life. His new passion causes him to form a band, track down out-of-print records that he loves and begin to reissue them, open a record store, begin a record distribution operation as a public service, mentor a host of young musicians, and befriend all manner of punk luminaries along the way. Slowly, his life's pursuit pushes him to the point of personal ruination and ultimately redemption.
Ben Snakepit returns with an all-new book of daily diary comics, continuing to draw years of his life day by day in three-panel comic format. No matter how mundane the events of each day appear at the time, and without being able to know what the future will hold from one panel to the next, a narrative always begins to emerge in Ben's life as characters re-appear and interact with him at 'Some Shitty Job,' at the local taqueria, out socializing, or at home. As the title implies, Ben transitions from the pants-pooping idiocy of youth to the dark, sobering responsibilities of adulthood. Read along in amazement as he quits his bands, gets a real job, has a kidney stone removed and much much more. A truly existential text that can be (uh, 18+) fun for the whole family!
Want to learn to make your own soap? Mend your torn clothes? Grow your own cucumbers? Carry your groceries and children on a bicycle? This four book box set teaches you the basics and beyond. Authors Raleigh Briggs, Robyn Jasko, and Elly Blue are your friendly guides to a new, cozy, sustainable life at home and in the world. Live your own revolution!

Books included in this set:
Make It Last by Raleigh Briggs
Make Your Place by Raleigh Briggs
Homesweet Homegrown by Robyn Jasko
Everyday Bicycling by Elly Blue
Everyday Bicycling by Elly Blue
Yo, Miss: A Graphic Look at High School takes the reader inside Wildcat Academy, a second chance high school in New York City where all the students are considered at-risk. Through strong and revealing black and white images, Wilde tells the story of "eight students who are trying to get that ticket to the middle class—a high school diploma." Whether they succeed or not has as much to do with what happens outside the classroom as in, and the value of perseverance is matched by the power of a second chance. It is a story that shows these teens in all their beauty, intelligence, suffering, humor, and humanity (and also when they are really pains in the behind.) A view from the trenches of public education, Yo, Miss challenges preconceptions about who these kids are, and what is needed to help them graduate.
The world looks to Portland, Oregon as an example of how bicycle culture can blossom out of the ruinous freeways of car-oriented civilization. Aftermass is the first feature documentary to explore the events, people, politics, and social changes that led to Portland becoming the first major bicycle city in the United States.
Aftermass features many of the leaders and major participants behind the growth of bicycling ridership since 1971. The narrative demonstrates the complex dynamic throughout the 1990s between advocacy organizations, politicians, city planners, and the then new, grassroots Critical Mass ride. The film is full of smiling faces on two wheels, but also explores the controversies, setbacks, and bumps along the way, including riots, political roadblocks, and an illegal police spy.
The film provides new and vital insights into Portland's transportation history as well as into paths other cities can follow to healthy planning and a green future.
In The News
Calling for submissions for the Music Scene History Series!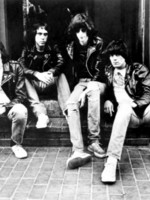 Are you stoked about the history of your town? Do you find out interesting nuggets by talking to those who came before you or by scouting out details on Wikipedia? Do you want a reason to hunt out some people you respect for them to fill in the gaps?
Well, the Scene History series is an opportunity to do just that. Like our Simple History Series, we will publish four issues each year of the Music Scene History Series that tell the story of a particular city's music scene.
Gradually, we'll collect them into boxed sets and distribute them far and wide.
And we're believing in democracy here. We are offering an open submission policy for this series. If you want to write about the history of a music scene that you are knowledgeable about or willing to research, we'll read it, edit it, and work with you, with the goal of us publishing it.
Suggested length is 10,000-15,000 words. Get as creative as you find gratifying. Learn about your favorite places and how things developed.
Submit or ask questions to joe at microcosmpublishing daht com
-Link-
Be our Best Friend Forever (BFF)! For 6 months you'll receive every new title we publish. The subscription is sliding scale price $10-30/month, and you can either pay in one sum upfront here or pay-as-you-go here. Thanks for your support! Google+