Want to learn to make your own soap? Mend your torn clothes? Grow your own cucumbers? Carry your groceries and children on a bicycle? This four book box set teaches you the basics and beyond. Authors Raleigh Briggs, ...
512 pages, 5.25x6.75", four paperbacks in box set sleeve, 978-1-62106-929-4
$39.80 $29.95
View Details
In The News
Calling for submissions for the Music Scene History Series!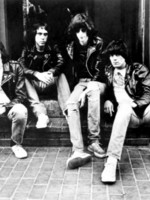 Are you stoked about the history of your town? Do you find out interesting nuggets by talking to those who came before you or by scouting out details on Wikipedia? Do you want a reason to hunt out some people you respect for them to fill in the gaps?
Well, the Scene Empowerment History Series is an opportunity to do just that. Like our Simple History Series, we will publish four issues each year of the Music Scene History Series that tell the story of a particular city's music scene.
Gradually, we'll collect them into boxed sets and distribute them far and wide.
And we're believing in democracy here. We are offering an open submission policy for this series. If you want to write about the history of a music scene that you are knowledgeable about or willing to research, we'll read it, edit it, and work with you, with the goal of us publishing it.
Suggested length is 10,000-15,000 words. Get as creative as you find gratifying. Learn about your favorite places and how things developed.
Submit or ask questions to joe at microcosmpublishing daht com
-Link-
Be our Best Friend Forever (BFF)! Well, not actually forever, but for 6 months you'll receive every new title we publish. The subscription is sliding scale price $10-30/month, and you can either pay in one sum upfront here or pay-as-you-go here. Thanks for your support!
Upcoming
In this engaging memoir, a small town Florida teenager discovers punk rock through a loaned mix tape and punk music and culture slowly takes over all aspects of his life. His new passion causes him to form a band, track down out-of-print records that he loves and begin to reissue them, open a record store, begin a record distribution operation as a public service, mentor a host of young musicians, and befriend all manner of punk luminaries along the way. Slowly, his life's pursuit pushes him to the point of personal ruination and ultimately redemption.
Ben Snakepit returns with an all-new book of daily diary comics, continuing to draw years of his life day by day in three-panel comic format. No matter how mundane the events of each day appear at the time, and without being able to know what the future will hold from one panel to the next, a narrative always begins to emerge in Ben's life as characters re-appear and interact with him at 'Some Shitty Job,' at the local taqueria, out socializing, or at home. As the title implies, Ben transitions from the pants-pooping idiocy of youth to the dark, sobering responsibilities of adulthood. Read along in amazement as he quits his bands, gets a real job, has a kidney stone removed and much much more. A truly existential text that can be (uh, 18+) fun for the whole family!
February 20, 2015 — by Microcosm
Here's what we've been reading, watching, listening to, and playing this week.
Tim
A friend of mine recently sold off all his records in an attempt to make some cash/lighten his load while moving. His loss is my gain. But of the few I bought, the one that has stuck out is Abner Jay. He was a one man band in his 50s, with a strange six string banjo, harmonica, percussion made with animal bones, and what ever else tickled his fancy. Sound-wise, he's like the second generation of country blues meets Daniel Johnston, fueled by amphetamines. I usually dread the "this band on this drug" cliche in music writing, but it's hard to avoid when he's yelling at you about cocaine.
And if you found your way to this blog, you probably know all about it, but I'm currently on letter "N" of Aaron Cometbus' A Bestiary of Booksellers. Each letter focuses on a different character in Aaron's life as a folding-table bookseller on the streets of NYC. A surprisingly interesting underworld of beardo book hunters and curmudgeonly characters.
I also watched the documentary Florida Man. Less a narrative and more a 45 minute portrait of the characters found wandering the streets and beaches of southern Florida. In the end, I actually ended up feeling a little jealous. Warm weather, a clunky bike, and a cold beer sounds pretty good right now...
Erik
This week the Champions League UEFA Champions League – UEFA.com began again, so I've been watching some soccer matches. For folks excited about European soccer, the Champions League title is like winning the Super Bowl, World Series, and the Stanley Cup all in one.
I haven't got much reading done; there were some Hemingway short stories, but I get bored and just wait for the punchlines. Although, The Snows of Kilimanjaro has a man suffering from gangrene, and somehow I find that fascinating... perhaps for the same reasons I keep a copy of A Journal of the Plague Year on my bedside table.
I think I was swallowed by a slew of Hall and Oates videos... I can't get enough of their use of fog and mesmerizing head-bobbing.
Meggyn
read // Afro Vegan by Bryant Terry, started Yo Miss!, Manspressions, Women by Bukowski
listened to // Giraffage's "No Reason", True Widow's Self Titled, Joey Bada$$'s "1999", Spazzkid's "Desire 願う", MIMM's compilation of "From China With Love", and A Tribe Called Quest's "The Low End Theory"
watched // X-Files season 2 and The Other Woman (one of the best rom-coms in my opinion, though I shamefully watched)
played // not enough basketball or Twister
Taylor
listened to- Jessica Pratt (self titled album)
read- The Art of the Novel by Milan Kundera and Madame Bovary by Gustave Flaubert
Nathan
This week's Powell book reading was a fictional tale, but still resonated with me in terms of themes and subject matter! Binary Star discusses body image issues like anorexia and the impact of veganarchism all in one terrific coming of age story we could all relate to, but most importantly find subtle references to lots of the issues we attempt to address with most of our titles at Microcosm Publishing!
No comments