Ben Snakepit returns with an all-new book of daily diary comics, continuing to draw years of his life day by day in three-panel comic format. No matter how mundane the events of each day appear at the time, and without ...
288 pages, 6x8", paperback, 978-1-62106-596-8
$14.95
View Details
In The News
Calling for submissions for the Music Scene History Series!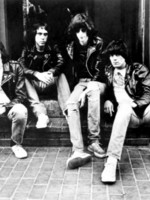 Are you stoked about the history of your town? Do you find out interesting nuggets by talking to those who came before you or by scouting out details on Wikipedia? Do you want a reason to hunt out some people you respect for them to fill in the gaps?
Well, the Scene Empowerment History Series is an opportunity to do just that. Like our Simple History Series, we will publish four issues each year of the Music Scene History Series that tell the story of a particular city's music scene.
Gradually, we'll collect them into boxed sets and distribute them far and wide.
And we're believing in democracy here. We are offering an open submission policy for this series. If you want to write about the history of a music scene that you are knowledgeable about or willing to research, we'll read it, edit it, and work with you, with the goal of us publishing it.
Suggested length is 10,000-15,000 words. Get as creative as you find gratifying. Learn about your favorite places and how things developed.
Submit or ask questions to joe at microcosmpublishing daht com
-Link-
Be our Best Friend Forever (BFF)! Well, not actually forever, but for 6 months you'll receive every new title we publish. The subscription is sliding scale price $10-30/month, and you can either pay in one sum upfront here or pay-as-you-go here. Thanks for your support!