Have you ever wondered why bras were so uncomfortable? Never could get the right fit, leaving you dissatisfied and frustrated? Have you given up to the idea of a "comfortable" bra and now only wear sports bras? ...
6 pages, b&w, 5 1/2 x 8 1/2"
$2.00
Add to Cart
In The News
Calling for submissions for the Music Scene History Series!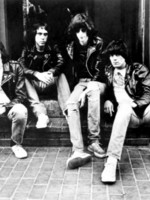 Are you stoked about the history of your town? Do you find out interesting nuggets by talking to those who came before you or by scouting out details on Wikipedia? Do you want a reason to hunt out some people you respect for them to fill in the gaps?
Well, the Scene Empowerment History Series is an opportunity to do just that. Like our Simple History Series, we will publish four issues each year of the Music Scene History Series that tell the story of a particular city's music scene.
Gradually, we'll collect them into boxed sets and distribute them far and wide.
And we're believing in democracy here. We are offering an open submission policy for this series. If you want to write about the history of a music scene that you are knowledgeable about or willing to research, we'll read it, edit it, and work with you, with the goal of us publishing it.
Suggested length is 10,000-15,000 words. Get as creative as you find gratifying. Learn about your favorite places and how things developed.
Submit or ask questions to joe at microcosmpublishing daht com
-Link-
Be our Best Friend Forever (BFF)! Well, not actually forever, but for 6 months you'll receive every new title we publish. The subscription is sliding scale price $10-30/month, and you can either pay in one sum upfront here or pay-as-you-go here. Thanks for your support!
Are you looking for an array of awesomeness, a medley of magnificence? Check out the superpacks and mystery packs on our website! Not only are the savings pretty classy, but it's a sweet way to discover titles without wading through the catalog.
The Revenge of The Revenge of Print!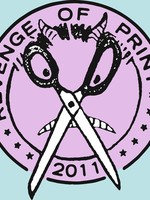 Aren't you sick of hearing folks glibly forecasting the death of print? We are. People have been declaring the end of print in some form or other for longer than there's been zines! "Books are over." "Magazines are over." "Comix are over." "Newspapers are over." Bah! We're over things being over. Let's make things happen! So we declared 2012 to be The Revenge of The Revenge Of Print! A nice response to publishing doomsayers. "Print is alive if you want it." So the challenge is this: in 2012 Return of the Revenge of Print! Make a zine!
April 04, 2014 — by Will Andresen
As a result of the mining legacy of the Gogebic Range (Northern Wisconsin and the western end of Michigan's upper peninsula, two great railroad lines were built to haul out iron ore out of the region. And since the surrounding towns were built before cars took over the landscape, our downtowns, neighborhoods and schools are all located within an easy walk from the railroads. Now, these abandoned rail lines run right through the center of five cities on the Gogebic Range. And having two rail lines eliminates any argument about whether they will be converted for use by bicycles and pedestrians or motorized vehicles. Even so, despite these near-perfect conditions, many efforts to build a bike trail along this corridor were unsuccessful. Objections centered on the question, "why spend money on bike trails with all those pot-holes that need filling?"
In the beginning, the rationale for the trail system was generally recreational or related to tourism. Then we learned that more and more young people were looking for a place to live where they can have a high quality of life, rather than finding the best job. So we focused on the need to attract and retain young workers. And then the major employers in town got excited. Similar to what happened in Houston, TX, they understood that in order to attract young people who wanted to live nearby and work for them, they needed to create an attractive environment. They focused on building a stronger community and developing a network of regional bike trails. With their support, credibility, name recognition and connections, we jumped the hurdle and started to build traction for this long-held dream. Every single municipality, chamber of commerce and school district along the proposed sixteen mile trail passed resolutions of support for the trail's vision. Now we have $1.2 million in place to build trailheads and the first phase of the trail, including the retrofit of a historic train trestle over the river separating Wisconsin and Michigan. And another million dollars of grant funding for phase II is going out the door as we speak.
Bikenomics is right, by demonstrating the economic justification for bike trails, it is much easier for the community to support, and even demand action on the project. For us the justification was attracting and retaining young people to build a workforce for our local employers, for others it may be some other economic angle.
If you're interested, here is some more information on the Gogebic Range Next Generation Initiative to attract and retain young people.
No comments