Slip of the Tongue explores a wide range of topics in linguistics through reflecting on the author's life and surroundings. Author Katie Haegele is a respected memoirist who makes sense of the world around her by ...
160 pages, 5x8", paperback, ISBN 9781621060116
$13.95
Add to Cart
Out Now
Much has been written about the glamorous—and short-lived—New York City punk rock scene of the late 1970s. Less has been written about the second-wave punk scene that followed in the 1980s. Unlike the earlier scene, the '80s punk scene took place largely outside of the established downtown clubs, in the streets and squats of the Lower East Side.
Punk in NYC's Lower East Side, 1981-1991—the first installment in Microcosm's Scene History Series—offers a glimpse into this important cultural moment, which has had such a lasting impact on American subcultures, from Hardcore, to Skinhead, to, most crucially, Anarcho-Punk.
Drawing on both archival documents and original interviews, this zine explores the music of the era's bands, including Bad Brains, Cro-Mags, Agnostic Front, False Prophets, Urgent Fury, No Thanks, and Reagan Youth. At the same time, the scene is situated within the broader social context, from the election of Ronald Reagan to the Tompkins Square Riots. Woven throughout is the tragic story of New York City's most legendary anarcho-punk, Reagan Youth's Dave Insurgent.
The first four Dwelling Portably books discounted in a snug box set sleeve, containing A wealth of knowledge, experience, and stories, collecting 1980-1989, 1990-1999, 2000-2008, and 2009-2012.
Full of information about living without a permanent residence, this complete collection contains helpful and informative tips for living far outside of cities and bereft of technology. All of the tips and advice have been edited down to what remains relevant in a technologically changing world, and it is crammed full of informative tips for biking, tents, showering, cooking, and living. Whether camping on the edges, living simply, or getting by on the road and loving it, this book is for modern nomads choosing alternative lifestyles to working 9–5 in the same place
Everyday Cheesemaking is an introduction to DIY home cheese making made simple and accessible. K.Ruby Blume introduces you to the concepts, equipment, and ingredients necessary to making cheese at home successfuly, the very first time. The book offers clear instructions, humorous stories, dozens of recipes and troubleshooting tips as well as information on running a small home goat dairy and non-dairy cheese recipes. With a lightly humorous and practical approach this book is perfect for anyone who is itching to get started and impress their friends and family with delicious homemade cheese.
This Ain't No Picnic is the first cookbook featuring creative and delicious recipes that match the quality and presentation of a gourmet restaurant with the self-parody and humor of punk rock culture and history. A comedic art book full of social commentary, it explores and improves the favorite foods of historic punk rockers. Through exclusive interviews, Picnic treats you to the delectibles they could—and perhaps should—have been eating. How to make s'mores with a zippo, cook without a stove or oven, and 80 new recipes of Joshua Ploeg's magical food and flavor combinations like you've never dreamed of.
The Aftermath of Forever: How I Loved and Lost and Found Myself is a memoir that chronicles the romantic coming-of-age of a woman in her 20s experiencing dating in the San Francisco Bay Area. After the disappointment of a failed marriage, Natalye Childress embarks on a soul-searching journey to discover what happens when the one you thought you would be with forever breaks your heart. Using music as a vehicle to express herself, she revisits 10 men of her past and paints a portrait of their relationships through the mixtapes she has made them. Her quest for love takes the form of delving into the hedonistic world of noncommittal beaus, abusive boyfriends, and friends with benefits. She candidly dissects her love life on the page as she shares the inspiring and hopeful moments alongside the awkward and painful realizations that accompany dating in the present day, when everyone is looking for something different. These men, although they leave her life almost as quickly as they entered it, collectively help shape her future as she embarks on a quest not only to find love, but to find herself. Ultimately, she learns the age-old lesson that in order to truly be loved, she needs to first love herself.
Railroad Semantics combines personal accounts of train hopping with a slew of diverse railroad-themed articles, and pictures of rail-yard graffiti. Aaron hops to Oregon, Idaho, Colorado, California, and Wyoming, and collects newspaper clippings along the way. Subjects include railway murders, track replacement efforts, the Dunsmuir Railroad Museum, the sale of Burlington Northern, and multiple train derailments. Railroad Semantics has so much content, it's a perfect read to while away the hours while doing some traveling of your own.
In the final installment of the greatest love story ever told, about the domestic life of "Henry" and "Glenn" as well as their neighbors "Daryl" and "John," we are treated to three new short stories. (similarities to real people must mean those real people have really crazy lives. What a coincidence!) This issue includes the shocking conclusion to the story of Glenn's mother living with them (spoiler alert: zombies), Glenn and Wendy make a daring rescue from Space City after Henry gets a pep talk from Lemmy, and Henry saves Glenn from some giant lizards after his drummer quits. It's a true testament to the power of love to overcome even the biggest, manliest egos of our time. The book also features dozens of pin up art and full color covers from the original serialized series. Will our lovers continue to frustrate, inspire, and show us the way?
By now you know the drill: Ben White draws his life everyday in 3 comic panels. This was his first book, collecting quite a few various zines. After describing dozens of various Snakepit titles I'm going to defer to the wisdom of Jimmi Payne's Punk Zine, "Taken individually, each strip resembles what a friend would say if you asked what they had done that day. Ben sifts through the minutiae of life as well as the full experience of time in a day. This is different than James Kochalka's work as there is no pretense at narrative or point. The narratives in Snakepit open up on the macro level. If Snakepit is to be read on the toilet, a mere bowel movement is enough time to live months through the protagonist's eyes. Patterns emerge and story arcs materialize and years of common actions load into a highly concentrated snapshot that wakes you up to the ongoing machinations of life beyond your present day. This has led many to label Snakepit an existential text." Introduction about doing cocaine by Aaron Cometbus.
Since 1999, Davida Gypsy Breier's review zine, Xerography Debt might be best summarized as an obsession for all involved, or as she puts it: "The review zine with perzine tendencies." Billy da Bling Bunny Roberts recently said "It's the glue that holds the zine community together." Now maintaining three issues per year, the 34th issue of Xerography Debt is still the same ol' charming personality, allowing a hand-picked cast of contributors to wax philosophical about both the zines they love and where those zines find them in their lives. Rather than spending time and ink bashing things or being forced to write about something they don't care about, the reviewers hand-select 148 zines to write about and the result is much more interesting. In an age of blogs and tweets, Xerography Debt is a beautiful, earnest anachronism, a publication that seems to come from a different era, but is firmly entrenched in the now. And they want to review your zines in future issues: Davida Gypsy Breier / PO Box 11064 / Baltimore, MD 21212
Alive With Vigor: Surviving Your Adventurous Lifestyle contains the stories of survival from a wide spectrum of contributors on all matters of preventative health care, the hard decisions we each have to make, Do It Yourself health care, and how to deal with extracting health care from government/corporate health care systems. Alive With Vigor! has a special focus on queer, youth, and transgendered people, recognizing different health care needs. Alive With Vigor! is a how to book where you can put the advice directly to use in your life!
Bikenomics provides a surprising and compelling new perspective on the way we get around and on how we spend our money, as families and as a society. The book starts with a look at the real transportation costs of families and individuals, and moves on to examine the current civic costs of our transportation system. The book tells the stories of people, businesses, organizations, and cities who are investing in two-wheeled transportation. The multifaceted North American bicycle movement is revealed, with its contradictions, challenges, successes, and visions.
In The News
Calling for submissions for the Music Scene History Series!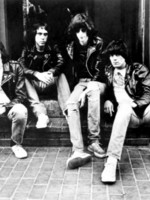 Are you stoked about the history of your town? Do you find out interesting nuggets by talking to those who came before you or by scouting out details on Wikipedia? Do you want a reason to hunt out some people you respect for them to fill in the gaps?
Well, the Scene Empowerment History Series is an opportunity to do just that. Like our Simple History Series, we will publish four issues each year of the Music Scene History Series that tell the story of a particular city's music scene.
Gradually, we'll collect them into boxed sets and distribute them far and wide.
And we're believing in democracy here. We are offering an open submission policy for this series. If you want to write about the history of a music scene that you are knowledgeable about or willing to research, we'll read it, edit it, and work with you, with the goal of us publishing it.
Suggested length is 10,000-15,000 words. Get as creative as you find gratifying. Learn about your favorite places and how things developed.
Submit or ask questions to joe at microcosmpublishing daht com
-Link-
Be our Best Friend Forever (BFF)! Well, not actually forever, but for 6 months you'll receive every new title we publish. The subscription is sliding scale price $10-30/month, and you can either pay in one sum upfront here or pay-as-you-go here. Thanks for your support!
Are you looking for an array of awesomeness, a medley of magnificence? Check out the superpacks and mystery packs on our website! Not only are the savings pretty classy, but it's a sweet way to discover titles without wading through the catalog.
The Revenge of The Revenge of Print!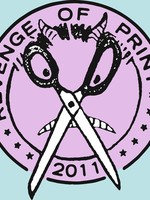 Aren't you sick of hearing folks glibly forecasting the death of print? We are. People have been declaring the end of print in some form or other for longer than there's been zines! "Books are over." "Magazines are over." "Comix are over." "Newspapers are over." Bah! We're over things being over. Let's make things happen! So we declared 2012 to be The Revenge of The Revenge Of Print! A nice response to publishing doomsayers. "Print is alive if you want it." So the challenge is this: in 2012 Return of the Revenge of Print! Make a zine!
April 04, 2014 — by Will Andresen
As a result of the mining legacy of the Gogebic Range (Northern Wisconsin and the western end of Michigan's upper peninsula, two great railroad lines were built to haul out iron ore out of the region. And since the surrounding towns were built before cars took over the landscape, our downtowns, neighborhoods and schools are all located within an easy walk from the railroads. Now, these abandoned rail lines run right through the center of five cities on the Gogebic Range. And having two rail lines eliminates any argument about whether they will be converted for use by bicycles and pedestrians or motorized vehicles. Even so, despite these near-perfect conditions, many efforts to build a bike trail along this corridor were unsuccessful. Objections centered on the question, "why spend money on bike trails with all those pot-holes that need filling?"
In the beginning, the rationale for the trail system was generally recreational or related to tourism. Then we learned that more and more young people were looking for a place to live where they can have a high quality of life, rather than finding the best job. So we focused on the need to attract and retain young workers. And then the major employers in town got excited. Similar to what happened in Houston, TX, they understood that in order to attract young people who wanted to live nearby and work for them, they needed to create an attractive environment. They focused on building a stronger community and developing a network of regional bike trails. With their support, credibility, name recognition and connections, we jumped the hurdle and started to build traction for this long-held dream. Every single municipality, chamber of commerce and school district along the proposed sixteen mile trail passed resolutions of support for the trail's vision. Now we have $1.2 million in place to build trailheads and the first phase of the trail, including the retrofit of a historic train trestle over the river separating Wisconsin and Michigan. And another million dollars of grant funding for phase II is going out the door as we speak.
Bikenomics is right, by demonstrating the economic justification for bike trails, it is much easier for the community to support, and even demand action on the project. For us the justification was attracting and retaining young people to build a workforce for our local employers, for others it may be some other economic angle.
If you're interested, here is some more information on the Gogebic Range Next Generation Initiative to attract and retain young people.
No comments