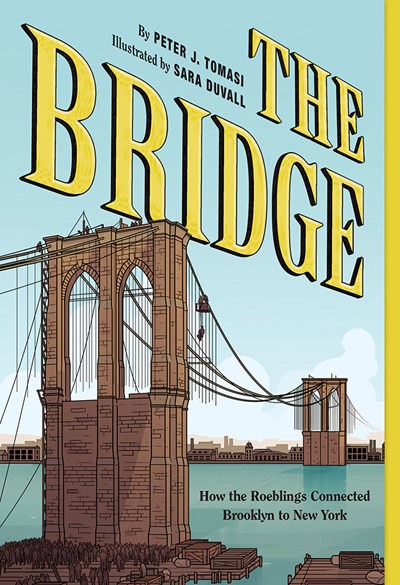 The Bridge: How the Roeblings Connected Brooklyn to New York
Peter J. Tomasi and illustrator Sara DuVall bring to life the construction of one of the most iconic landmarks in the world and shine a light on the incredible triumphs and tragedies that went into building the Brooklyn Bridge. After the accidental death of John Augustus Roebling in 1869, it was up to Roebling's son Washington to complete the massive project. Unfortunately, there was more pain to follow, as Washington developed caisson disease, leaving him bedridden. Washington's wife, Emily, deftly assumed a key role in the bridge's construction by becoming her husband's eyes and ears at the work site. As Washington's wisest council, Emily skillfully navigated work crews who now had to answer to a woman, contractors, a hostile press, and a greedy city politician—all looking to take credit for the magnificent bridge slowly making its way across the East River. Through it all, the Roeblings persisted, rising above every obstacle to build the great bridge that connects Brooklyn and New York.
(This book may contain a small, black sharpie mark on the bottom edge, so that it can't be returned to a different wholesaler.)
You must log in to comment.