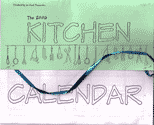 Kitchen Calendar (2006)
Webly created a 2006 kitchen calendar. Features include simple meal planning ideas for meals, a record of what you eat each day, a life planner, or to show your roommates what's on the menu each day. Each month features a new recipe plus a few additional ideas for quick meals. January features a Crepes recipe. February features Webly's classic peanut butter surprise cookies. June is a special treat with Strawberry Pie. It's not until September that we get a recipe that is't sweet with Corn Chowder. Fortunately it's followed in October with Tofu Quiche. There's an exciting year of eating ahead for us all. Let's celebrate with this calendar. It can hang on the wall or sit flat.
You must log in to comment.