We Review Things… Walking with Ramona
This spring we got the lovely 2nd edition of Laura O. Foster's charming Portland guide, Walking with Ramona: Exploring Beverly Cleary's Portland. This is one of our favorites, and if you've been curious about the book but haven't gotten around to checking it out, spring intern Kellie is here with a review.

~ Walking with Ramona Review ~
By Kellie Robinson

There's nothing quite like stepping into the shoes of your favorite author, and Portland guide Laura O. Foster helps her readers do just that in Walking with Ramona.
Back in the good ol' days, when I was a wee lass, there was one author whose books I always returned to time and time again: Beverly Cleary. You may know her well as the vivid personality behind the Ramona Quimby series, but I knew her as the author of my favorite book, The Mouse and the Motorcycle.
Strangely, although I perused that little title so many times I could practically quote it word-for-word, I never even touched the "Ramona" chronicles….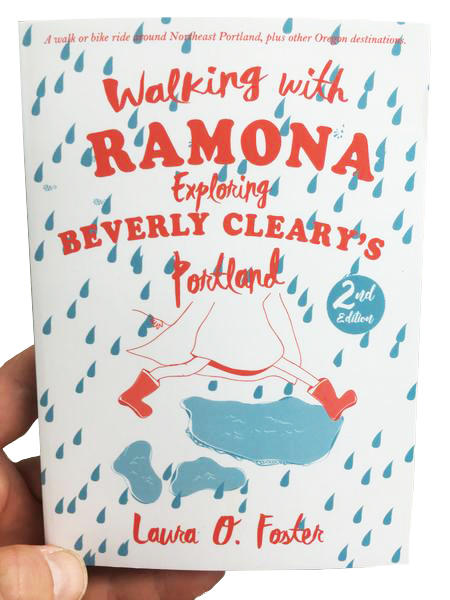 Enter, many years later, Walking with Ramona: Exploring Beverly Cleary's Portland by Laura O. Foster, an insightful look into Ms. Cleary's childhood days living in Portland, Oregon.
It proffers a playful hand, inviting you to explore where Cleary (and her fictional alter ego, Ramona) spent her youthful days: elm-lined streets that make tunnels with their long branches; seasoned brick-and-mortar schools of days gone by; a local library or two, one of Cleary's favorite stops; and Grant Park, where the yells and laughter of neighborhood children can still be heard.

Short though this book may be, dull it is not. Foster leads you behind-the-curtain of Ms. Cleary's life, one which had its fair share of hardships and adventures, encouraging readers to traverse the historic landscape of Portland and its many hidden gems.
It's a tour book, taking you step-by-step throughout the city and its old neighborhoods, walking where Ramona and friends walked, resting where Cleary rested, and even welcoming you to stop by one or two of Beverly's childhood homes.
Provided you're ever in Portland and want to take the tour, it's recommended that you set aside a whole day for it: you're gonna need (and want) it!

This book has not only inspired me to want to check out the Ramona Quimby series, but it also motivated me to write a very belated fan letter to Ms. Cleary (at age 102, I hope the letter gets to her!).
Whether you've grown up with rascally Ramona, or are just now getting into Beverly Cleary's books, I'd encourage you to pick up this charming title.
---
This post was written by Spring intern Kellie Robinson. Check back later this month for all the details on Kellie's full tour of NE Portland using the book.
Follow Kellie's work online, check out the book here, and learn more about interning at Microcosm in the FAQ.