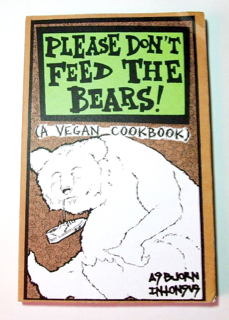 Please Don't Feed the Bears: A Vegan Cookbook
In the vein of the classic Soy Not Oi cookbook, Please Don't Feed The Bears compiles three issues of the previously self-published vegan cook zine with a range of tasty and simple animal-free dishes. The collection finally makes available these long-obscure fanzines originally published in the mid 1990s. In here you'll find incredible recipes for stews, soups, sauces, noodle & bean dishes, baked entrees, deserts and more! There is also a fair smattering of new material bringing this to a whopping 160 pages of deliciousness! These recipes are written to be simple, straightforward, and perfect for the newest convert to the vegan revolution! But far from bring just a vegan cookbook, Please Don't Feed The Bears reads as a look into vegan lifestyle and underground culture. Thoroughly illustrated with eye-catching drawings and clearly laid-out graphics, the book also includes assorted rantings about music and the politics of leading a vegan lifestyle. Together the book provides easy-to-make and delectable recipes while reflecting the DIY punk rock sensibility of zine culture.
You must log in to comment.