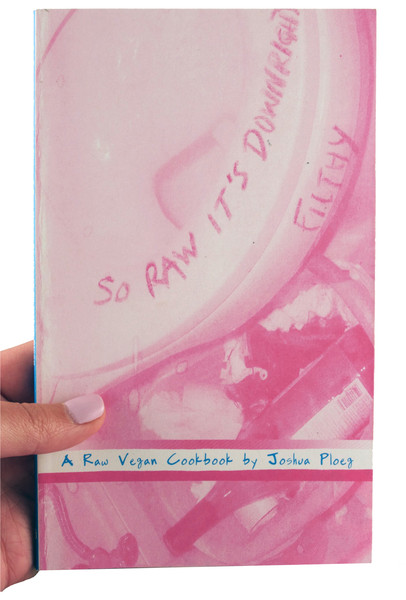 So Raw It's Downright Filthy
Let us not understate the might and magic of Joshua Ploeg's cooking. The dude's meals sparkle in your mouth; they burst and bloom; they explode and breakdance and pirouette! Joshua's the "traveling vegan chef" and he is—as we speak, no less!—touring the world making insane-in-the-membrane multi-course DIY meals at shows and dinner parties. (You can book him right here! http://joshuaploeg.blogspot.com/) A wonderful follow-up to his third cookbook, In Search of the Lost Taste, this brand-new zine is Joshua's take on raw food and it is llllllong awaited. Revel in the majesty of easy and cheap recipes like his Mushroom-Pear Salad with Five Spice. Give yourself a massive high five after fixin' up his pho (which is pho-king great!). Go bananas with his green curry, his incredible Shitakesbury Steak, his OMG-worthy raw Shepherd's Pie! Want some more? There's more, much more: 28 slammin' pages with tips on all-things raw, raw-related articles, and awesome-a-licious recipes like Garlic-Sunflower Pate, Cashew Sour Cream, Melon Gazpacho, and Gumbo! The raw diet does not have to mean a pile of wilted lettuce with lime squeezed over it or a handful of stinkin' peanuts! The raw diet can be a party!

You must log in to comment.