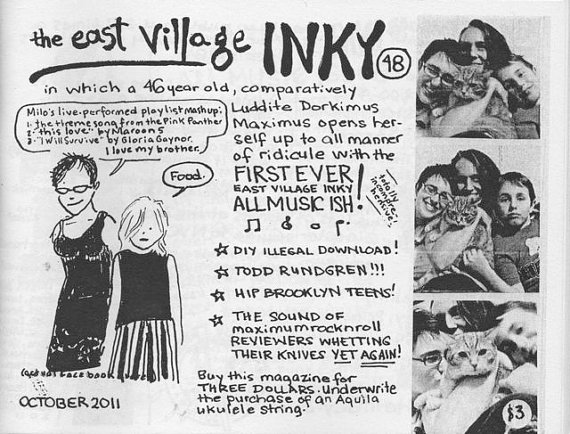 The East Village Inky #48
It's the first-ever East Village Inky music issue! In these 40 pages we get essays about influences and awakenings, an ode to Rickie Lee Jones, and directions for an "illegal download" mixtape featuring bands like The Mekons and The Buzzcocks. It's a packed issue as our humble host Ayun Halliday (author of the SATW Foundation Lowell Thomas Journalism Awards winning Zinester's Guide to NYC) takes us on a wild dash through her life and how it connects to auditory enjoyables. Other noteable topics, musical landmarks, and sweet-ass heroes you'll find in these pages: a great drawing of Todd Rundgren; Jimi Hendrix; Tegan and Sara; French music; tunes from films; Greg Kotis' "Secrets of Lyric-writing REVEALED!"; and a profile of local Brooklyn teens and what they're listening to (e.g., Annie, age 14, says, "I can't stand the luke-warmity of modern hipster rock. It seems so 1/2 hearted and undercooked to me, really unappetizing." Amen, little sister.) We say this every time, and it's always true, BEST ISSUE YET!
You must log in to comment.