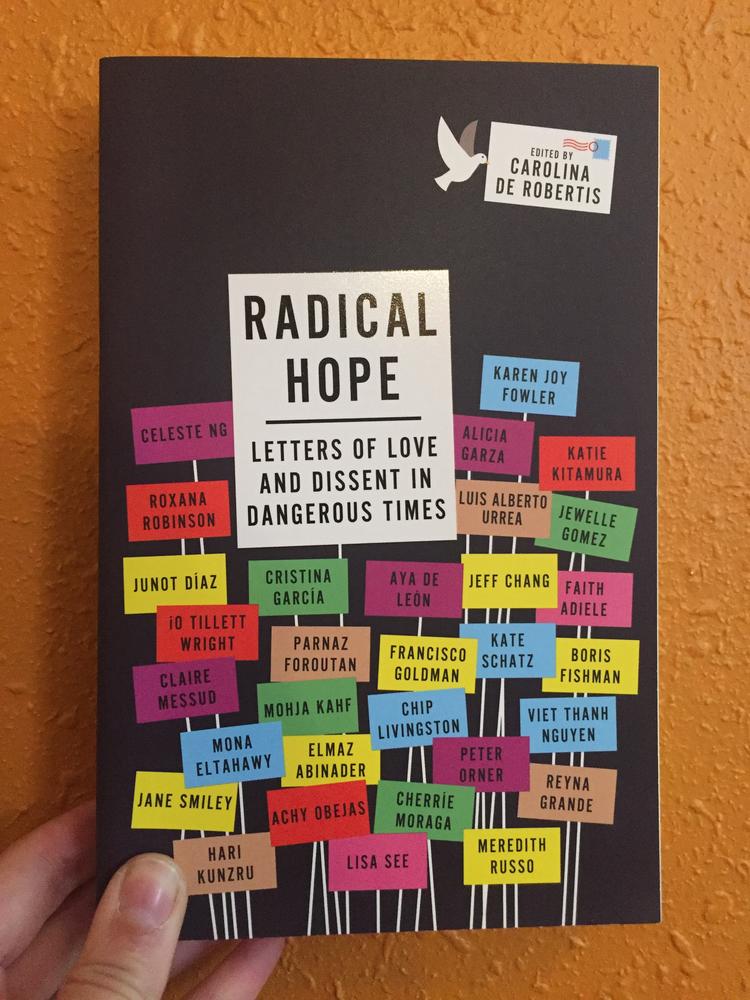 Radical Hope: Letters of Love and Dissent in Dangerous Times
Radical hope is radical because "it is directed toward a future goodness that transcends the current ability to understand what it is," according to philosopher Jonathon Lear. That radical hope, that ability and will to hope for a better future even when we can't see how we could possibly get to one or what such a future would even look like, is what Junot Diaz urges readers to hold onto in the title essay of this book, Radical Hope. It is what all of the essays in this collection in some way embody; it is the authors' collective response to the electoral victory of President Donald Trump. For in a time when hope seemed scarce and the future seemed bleak, editor Carolina de Robertis called for love letters.
Why love letters? Because, as she explains in her introduction, "love is the blending agent that fuses the political and the intimate, providing urgency to the one and context to the other." It is love that opens our eyes to the necessity of action and banishes the hopeless despair of our initial shock. We fight because we must. We fight because if we do not, what will happen to those we love? We embrace Jonathon Lear and Junot Diaz'es radical hope because there is no other choice. We look forward to a future we cannot yet see but know must come, for the sake of those we love.
Why love letters? Because letters are the most direct form of communication with the readers they are written for. Because letters will resound with those readers, will motivate and uplift them in a way no other form of writing will. Because letters are personal, and the values Trump attacks daily are as personal as they are universal. Because love is the only way to fight his hate. Logic and laws will not be enough in the years ahead; we will need every ounce of love, courage and strength we possess as well. And most of all, we will need hope. In fact, we wil need the very radical hope that Diaz professes, and that permeates every letter in this beautiful and inspiring collection, whether they analyze how we got to this moment in time or reveal what we must do to get past it.
As you can see, the response to Carolina's call was overwhelming, not only in the power, hope and strength of the writers and letters, but in the volume of submissions. She received, in fact, enough to fill a book.
You must log in to comment.