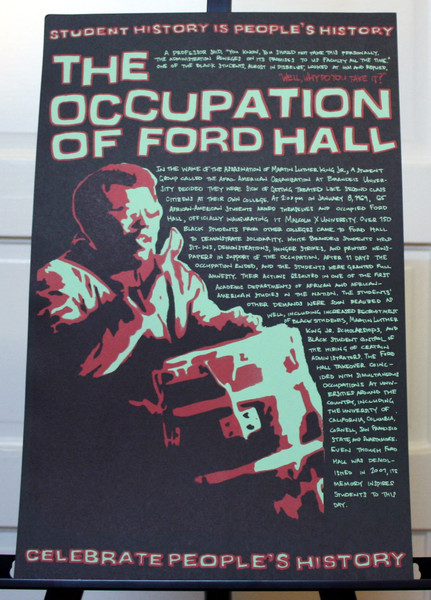 Occupation of Ford Hall poster
In the wake of the Assassination of Martin Luther King Jr, a student group called the Afro-American Organization at Brandeis University decided they were sick of getting treated like second class citizens at their own college. At 2:08 PM on January 8, 1969, 65 African-American students armed themselves and occupied Ford Hall, officially inaugurating it Malcolm X University. Over 150 black students from other colleges came to Ford Hall to demonstrate solidarity. White Brandeis students held sit-ins, demonstrations, hunger strikes, and printed newspapers in support of the occupation. After 11 days the occupation ended, and the students were granted full amnesty.
Their actions resulted in one of the first academic departments of African and African-American Studies in the nation. The students' other demands were soon realized as well, including increased recruitment of black students, Martin Luther King Jr Scholarships, and black student control of the hiring of certain administrators. The Ford Hall takeover coincided with simultaneous occupations at universities around the country, including the University of California, Columbia, Cornell, San Francisco State, and Swarthmore. Even though Ford Hall will be demolished in 2007, its memory inspires students to this day.
*Have your poster shipped in a Poster Tube for extra protection! Posters not shipped in tubes will be folded in half for packaging and are more subject to wear while shipping.*
You must log in to comment.