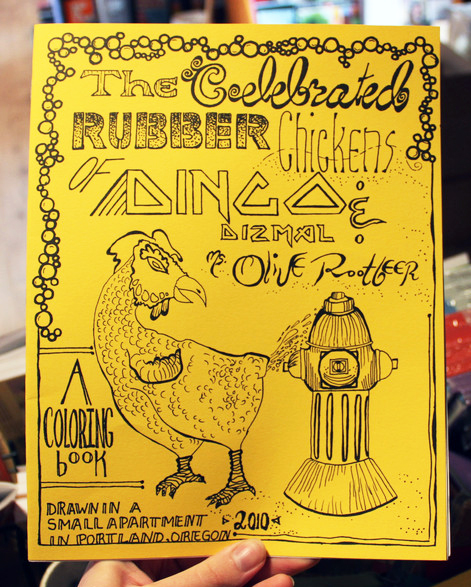 The Celebrated Rubber Chickens of Dingo Dizmal & Olive Rootbeer: A Coloring Book
Drawn in a small apartment in Portland, Oregon, this book features rubber chickens illustrated by expert clowns! And they aren't just any rubber chickens. They are awesome ones. Unlike many of the other coloring books and other illustrated works available in the world, this one is guaranteed to make you laugh out loud. As irreverent as it is charming, it features interesting artistic statements, like the gladiator with a rubber chicken for a shield, jousting chicken paladins, and the rubber chickens with pilgrim hats arriving at Plymouth Rock (albeit in a clownishly-incorrect year).
Here's a quote to give you a proper sense of the hijinks in these pages: "If "Ramontep fucks up the mummification of another one of the pharoh's chickens ….it was commanded he be entombed with it. Being constantly watched and never trained didn't help." [sic] Gloriously colorable! Bye, humans, it's time for us to go to the corner with our crayons!
You must log in to comment.