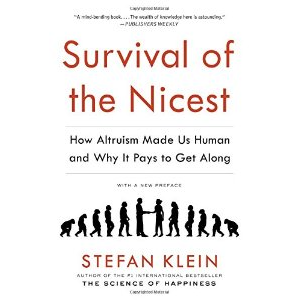 Survival of the Nicest: How Altruism Made Us Human and Why it Pays to Get Along
The doctrine of "survival of the fittest" is popular, but in reality that's not what shaped human evolution. Scientist Stefan Klein makes the argument that altruism is favored by natural selection (it gave our ancestors more free time to think and experiment instead of just fighting all the time) and thus is a key component of humanity. Also, he points out, it makes us happier and more satisfied to be kind to each other and work cooperatively. Our culture doesn't value this stuff, he argues, but it should.
(This book may contain a small, black sharpie mark on the bottom edge, so that it can't be returned to a different wholesaler.)
You must log in to comment.