Log in to get emails when Reid Chancellor has something new.
Reid Chancellor is an artist, writer, and musician from Evansville, Indiana. You can follow his work on all social media platforms @reidchancellor. He currently lives in north-western Kentucky with his wife Kristan and two cats Buffy and Willow.
2020 marks the 27th anniversary of the death of GG Allin, the most notorious Rock N Roll artist of all time.
$14.95
Pre-Order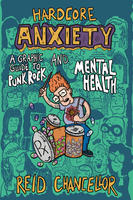 Punk rock and mental health have been intertwined since the very beginning. Nervous breakdowns, anxiety, seeking …
$14.95
View Details
Quick Shop