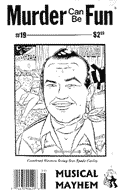 Murder Can Be Fun #19: Musical Mayhem
John Marr is apparently obsessed with murder! The murderous theme of this issue is music. There are plenty of musical death tales, but he ignores the obvious ones. The feature story is about western swing star Spade Cooley, and the murder of his family and on-stage heart attack. Spade's story is fascinating, a complete paranoid crackpot who leaves no room for truth in his psychopathic leanings. Other articles include the actual death tied into the metaphorical death of David Cassidy's career; a history of rock group The Band that ends with a morbid scene; and the bizarre story of jazz trombonist Frank Rosolino. Rounding out the issue is a humorous overview of fundamentalist Christian anti-rock'n'roll literature. This issue is much more dark and twisted than most but still wholeheartedly recommended!
You must log in to comment.