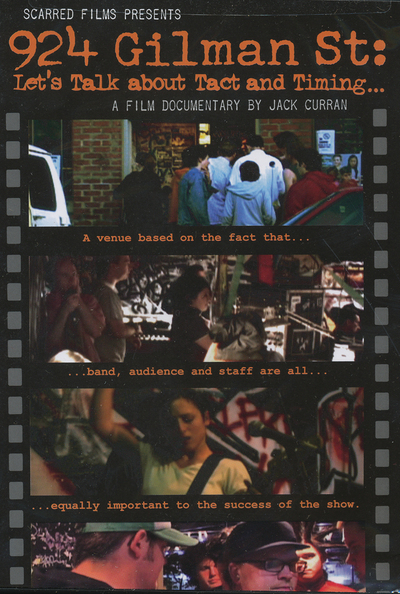 924 Gilman St DVD: Let's Talk About Tact and Timing
Director Jack Curran's debut feature, 924 Gilman Street, is an ambitious documentary that chronicles the 21-year history of the non-profit volunteer-run, all-ages venue in Berkeley, California and captures a music scene still thriving today on creativity and a sense of camaraderie.
In 924 Gilman Street, Curran crafts an intimate portrait of a small punk venue that continues to foster a vital music scene, and most importantly, a sense of hope that punk principles and practices can build a successful, long-running community.
Features over 20 live performances including: Against Me!, Pinhead Gunpowder, Ted Leo and the Pharmacists, Pansy Division, Screeching Weasel, F-Minus, and Citizen Fish.
Interviews include: Jesse Michaels of OpIvy, Iain McKay of Fugazi, Adrienne of Spitboy, Tim and Lars of Rancid, and Jello Biafra of the Dead Kennedys.
You must log in to comment.